Food Grade - Vacuum Bags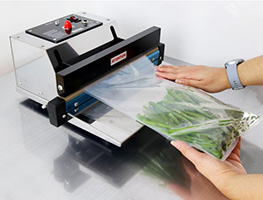 Be it for sous vide cooking or long term storage, vacuum sealing has become more and more common in everyday life. Using chamber vacuum sealers or nozzle style vacuum sealers with appropriate vacuum seal pouches provides the perfect storage solution for items that require low oxygen and moisture levels. Between a vacuum environment, and appropriate absorbers it has never been easier to get the perfect storage solution at home.
What sets these Superpoly™ bags apart from your average vacuum bags is the high barrier structure. Compared to your standard Polybags, these offer a fraction of the oxygen and moisture transmission rates with 2/3 the material thickness. That is source reduction and efficiency at its finest.
| | | |
| --- | --- | --- |
| Physical Properties | 6 mil Poly Bags | Superpoly |
| Thickness (mil) | 6 | 4 |
| WVTR (grams/100 sq. in. * 24 hours) | 1.2 | 0.26 |
| OTR (cc/100 sq.in * 24 hours) | 506.5 | 4.25 |
| Boilable | No | Yes |
| Tensile Strength (psi) | 1700 - 2100 | 7160 |
| Haze (%) | 5 - 8.5 | 15.6 |
---
Showing 1 to 1 of 1 (1 Pages)