Chamber Sealers
Commercial & Industrial Machines that Meet UL & NSF Requirements
Chamber type vacuum sealers are among the most versatile vacuum sealers available, and with the addition of a gas flush system, these units can produce results that cannot be matched by other types of vacuum sealer machines. Chamber units also offer the very best vacuum for products that require low oxygen content in the package. Gramatech offers a complete line of vacuum chamber sealers from commercial quality tabletop and single chamber units to full industrial single chamber sealers and high production double/dual-chamber machines. The entire line of Gramatech vacuum chamber sealers are certified & labeled to meet UL, CSA, and NSF requirements.
Chamber vacuum sealers are also among the easiest machines to operate; just close the lid to start the cycle - no footswitch required - and since the seal is produced before the lid opens you get a wrinkle-free uniform seal every time. From tabletop models to custom machines, Impak's Gramatech Chamber Line has a unit to meet your specific requirements. Compare models in the chart below or contact a chamber vacuum sealer specialist at IMPAK to get advice based on your application.

Tabletop Chamber Unit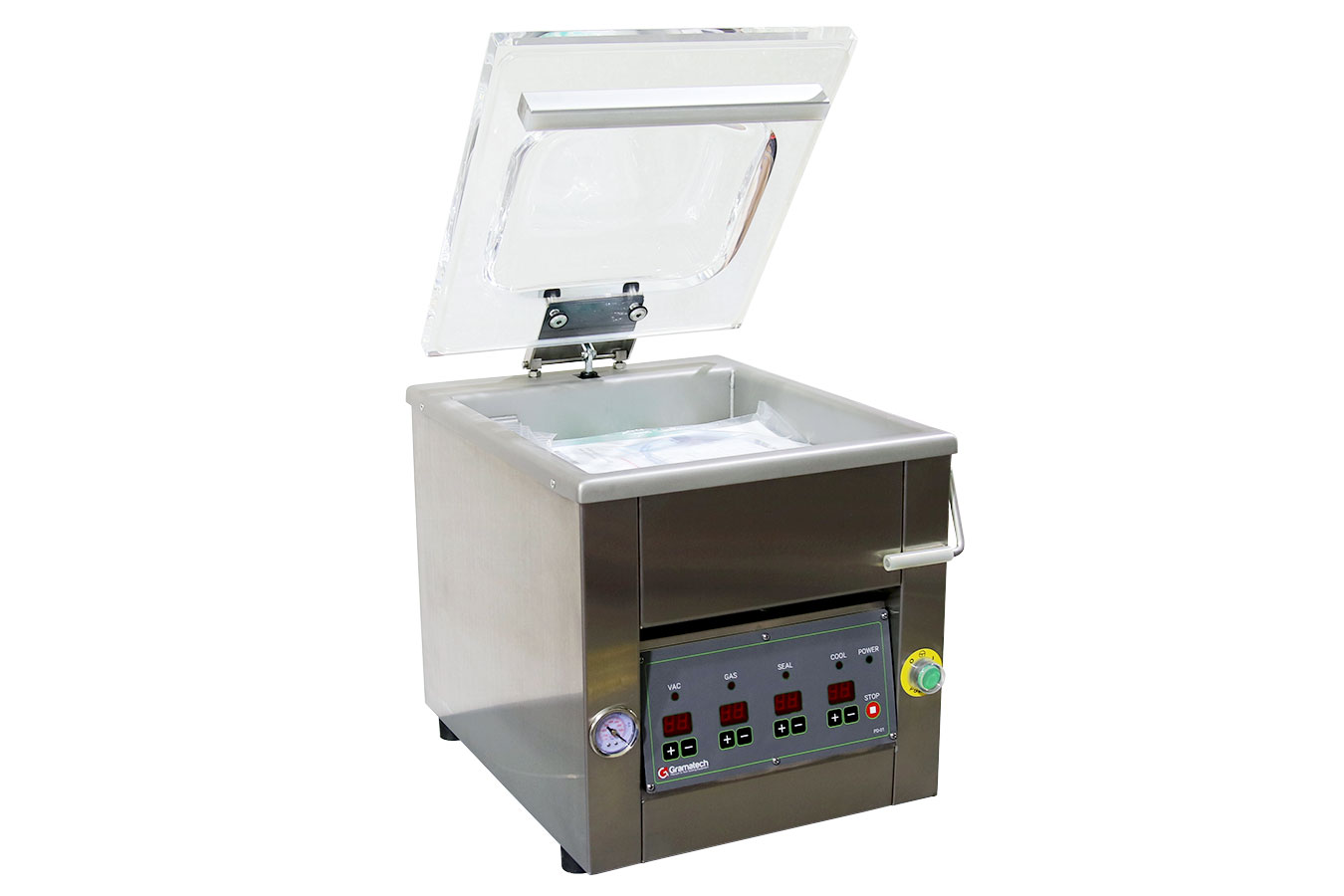 Compact / Commercial Quality
The smallest size and lowest price of the chamber type vacuum sealers yet still commercial quality machines with Busch vacuum pumps.
Shop
Single Chamber Units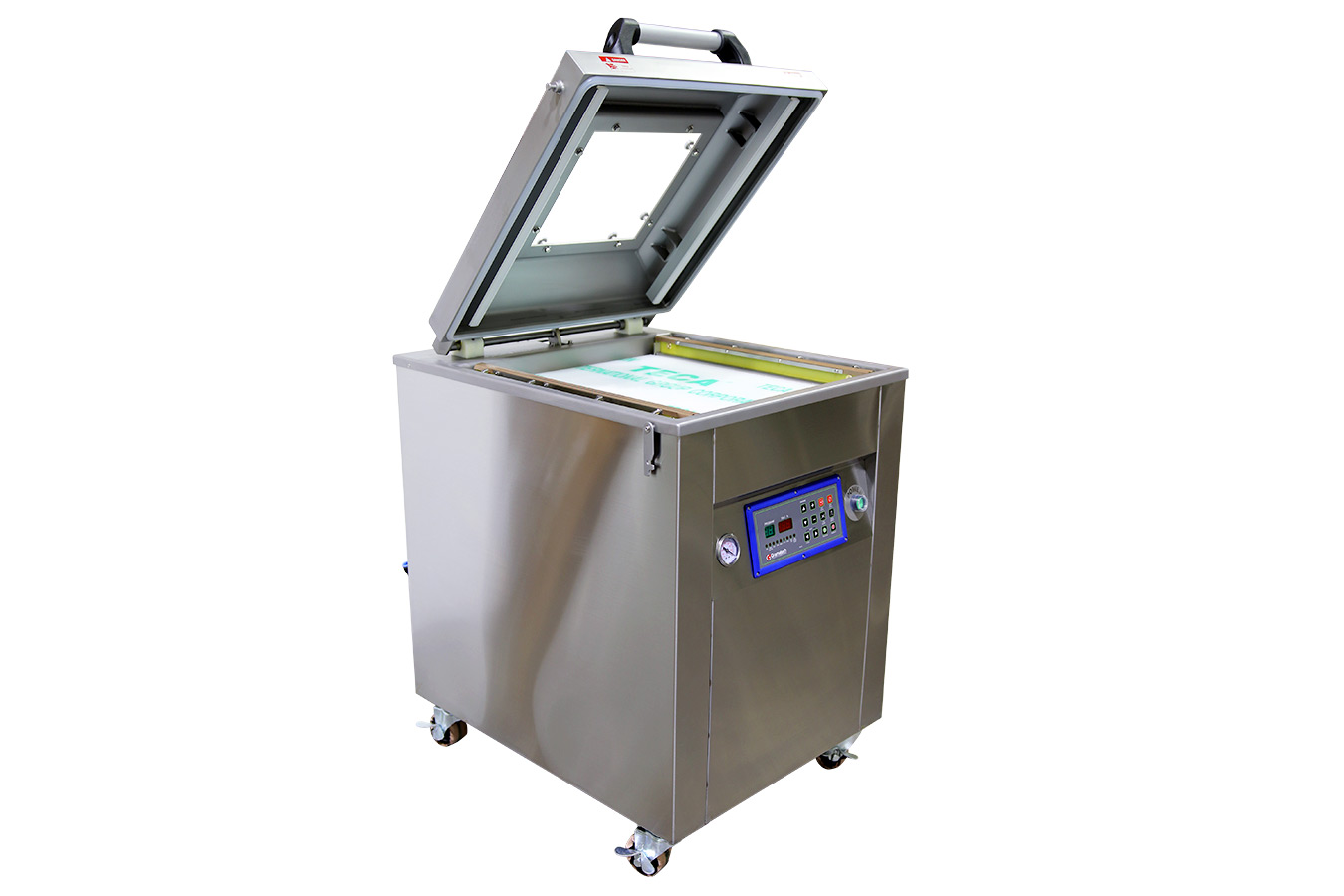 Commercial & Full Industrial Units
SC models are free standing units designed for full industrial applications and all feature Busch vacuum pumps.
Shop
Double Chamber Units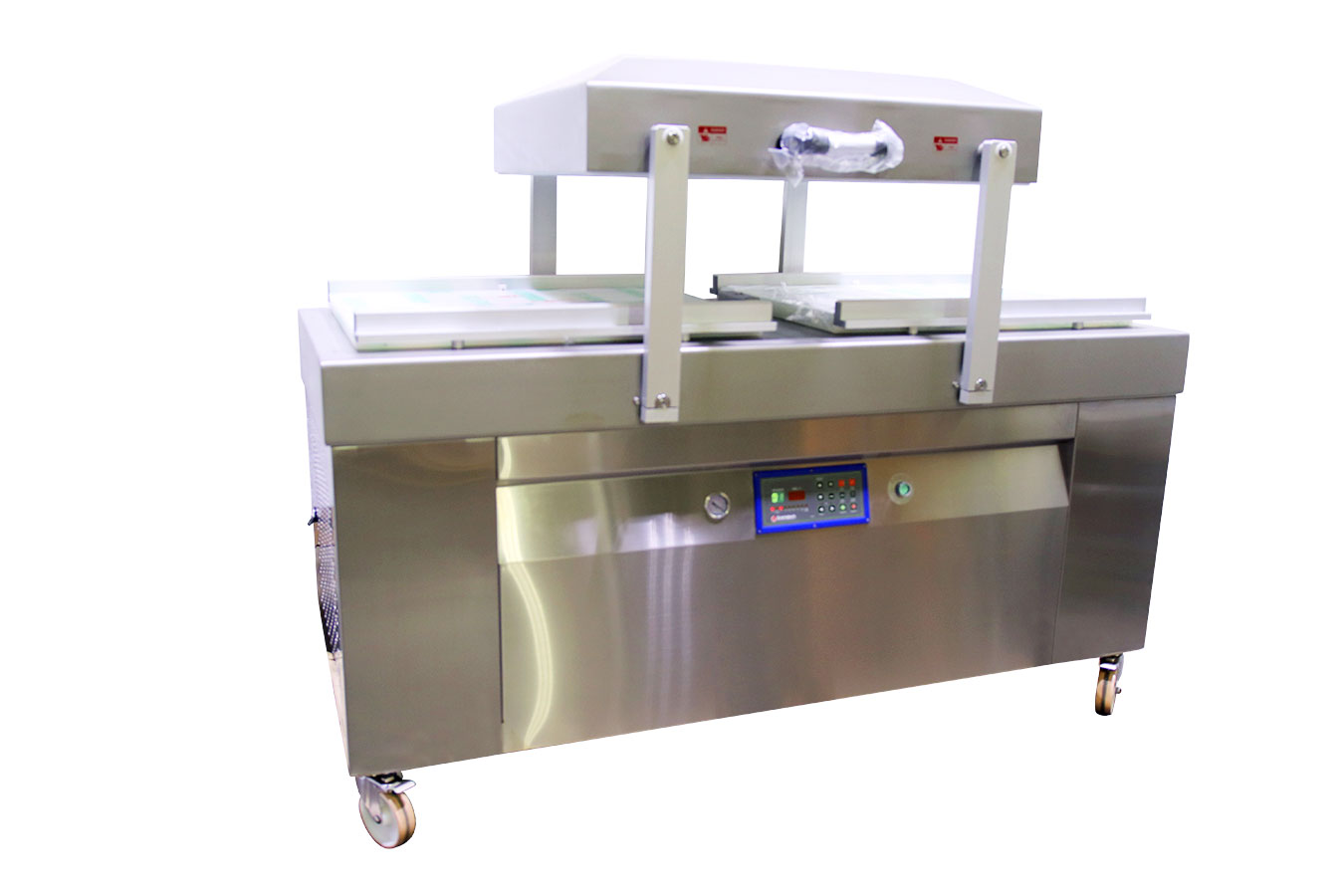 The Workhorse of Vacuum Sealers
These swing lid machines are built with high production output in mind and use all Busch vacuum pumps.
Shop
| | | | |
| --- | --- | --- | --- |
| | Tabletop Chamber Units | Single Chamber Units | Double Chamber Units |
| Seal Lengths | 11.8" to 33.8" | 16.9" to 26" | 21.2" to 39.3" |
| 220V/1PH | Optional | Optional (to 5HP) | Optional (to 5HP) |
| Stainless Steel | X | X | X |
| Seal System | Impulse | Impulse | Impulse |
| Bi-active Seal | Optional | Optional | Optional |
| PNC-01 Controller | Optional | Optional | X |
| Gas Flush | Optional | Optional | Optional |
| Emergency Stop | Optional | Optional | Optional |
| | SHOP | SHOP | SHOP |
Evolution of Innovation
How a Large Scale Chamber Vacuum Sealer for Major Medical Equipment Provider Changed Our Technological Trajectory
Chamber Sealer and Flexible Packaging Solutions
Gramatech Chamber Sealer and Flexible Packaging Solutions Help Chubby Snacks Achieve Success at Every Stage of Explosive Growth!


Benefits of Using a Chamber Vacuum Sealer: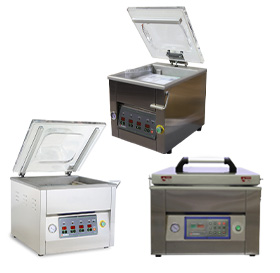 Greater vacuum percentage (lower oxygen) as compared to a nozzle type sealer
A larger seal bar (or more than one) will allow the operator to vacuum and seal multiple pouches at the same time resulting in greater productivity
Little to no operator involvement after the lid has been closed and the cycle has started
Options for percentage vacuum will allow for partial vacuum if making an object immobile is your goal
The vacuum pump is built-in so you don't need any additional equipment
Need Something Custom?
Our Intelligent Sealing System is the solution for custom sealing equipment. iS2 chamber sealers offer a higher degree of control, as well as a more convenient touch screen interface, plus the option to store multiple recipes. The iS2 system does not come pre-installed on chamber vacuum sealers; this is an upgrade and begins with a call to our machinery specialists so they can assess your needs and offer a custom system. Generally, we suggest the iS2 system for 520 units and up and do not offer on smaller units unless by unique requirement. The upgrade pricing to the iS2 System will depend on your specific needs. Learn more about the iS2 System.
More About Chamber Sealers
Vacuum chamber sealers are the best choice for a wide variety of products that require a high pressure vacuum to be achieved without the product being crushed, warped or damaged in any way due to the pressure exerted on it by the pouch when a tight vacuum is achieved. Since the entire product and vacuum pouch are processed inside the machines vacuum cavity both the inside and the outside of the package experience the pressure change during the vacuum cycle at the same time. When this is combined with the effect of gas flushing the package before it is sealed a package with ultra-low residual oxygen can be achieved without ever putiing the product under damaging pressure. This unique process that can only be achieved with a chamber vacuum sealer is of tremendous benefit to products like cannabis and baked goods as well as many other high value delicate products.
Our Guarantee
Gramatech has long been recognized as a leading provider of high quality sealers. We value our reputation and we stand behind our products. Every sealer we sell is thoroughly tested for defects prior to shipment; and with the purchase of any hand held portable heat sealer, you get a 1 year warranty that includes parts and labor (minus consumables), as well as friendly tech-support and on-site machine technicians.
Helpful Videos
Interesting Uses for Chamber Sealers:
Vacuum Packaging Military Supplies
Many branches of the military vacuum package a variety of products from survival parkas and sleeping bags to mission ready kits for the Navy Seals as well as ammunition and aircraft electronics. In some cases the vacuum packaging is done for space reduction purposes were in other cases it is for dry-packing the product for long term storage and in some, like ammunition it is done to greatly reduce the oxygen in the package as exposure to oxygen has a detrimental effect on the performance of ammunition that has been in long term storage.
Vacuum Packaging Whole Goat Carcasses for Further Processing
This project was a good example of both the versatility and superior performance that can be achieved with vacuum chamber machines. This product needed to be packed using a vacuum packaging equipment that would provide for extremely low residual oxygen content in the finished package as well as having a seal system that could handle an extremely large bag and the machine also needed to be simple enough to be operated by mostly untrained operators in rural environments. While large nozzle type machines could handle the large bags they could not produce end results that meet the low residual oxygen requirement and were more difficult to achieve the best seal results with. Since the throughput require was low to medium a custom sized single chamber vacuum sealer was the best choice.
---
Refine Search
Showing 1 to 15 of 15 (1 Pages)