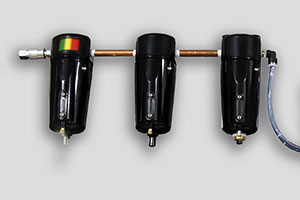 Sterile Air
Two Pre-filters with PM indicators which remove contaminants and water from the compressed air line before they reach the nitrogen generator. After leaving the generator the air is pushed through a Post filter which results in a Sterile Nitrogen flow of 99.9999+% efficiency at 0.01 micron. This is essential for food and sensitive applications where purity is critical.
---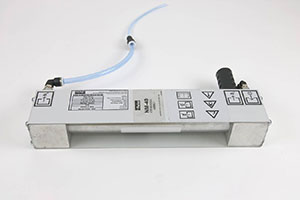 Nitrogen Generator Kit
The Nitrogen generator produces Nitrogen gas (N2) from a standard compressed air line. This model is designed to generate Nitrogen at purities between 95% and 99.5%.
The Nitrogen generator can be used as a replacement for heavy and bulky Nitrogen gas tanks. Its slick and compact design allows users to integrate this with their current gas flush enabled vacuum sealers without having to worry about it taking up too much space. Also, users will not have to worry about a depleting Nitrogen gas source, as our generator produces Nitrogen from a clean compressed air source.
---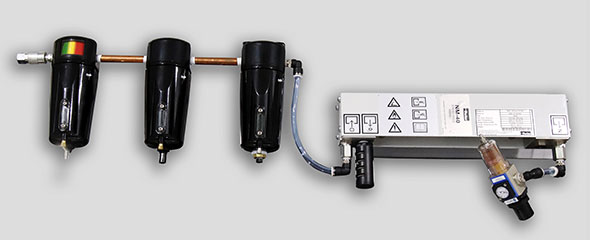 Sterile Air Kit with Nitrogen Generator
OPTIONS:
PD-01 Basic Digital Control Panel
PNC-01 Computerized Water Resistant Control Panel
Voltage
Gas Flush
Top and Bottom Seal
Soft Air
Swing Lid Double Chamber in Operation
Chamber Sealer Comparison - Vacuum With and Without Gas Flush
CHSC-520LR Single Chamber Vacuum Sealer Machine
PRE-ORDER ITEM: AVAILABLE IN 3-5 WEEKS LEAD TIME
TECHNICAL SPECIFICATIONS
Chamber size
23.6" x 23.6"
Chamber depth
3+5/75+200mm
Distance Between Seal Bars
18/450mm
Seal Length
21.3"x2/540mm
Vacuum pump capacity
21m3/h (1 1/4 hp)
Power/Amp
1.2kw/13A
Voltage
110V/1ph/60Hz
Machine weight
310 lbs. /140 kg
Machine size - L x W x H
24.0" x 30.0" x 36.0"
Standard Features:

Stainless Steel Construction
PD-01 Digital control panel
Bladder activated sealing
Durable, removable aluminum cushion bar

BUSCH vacuum pump
Air assist
6mm seal wire or cut-off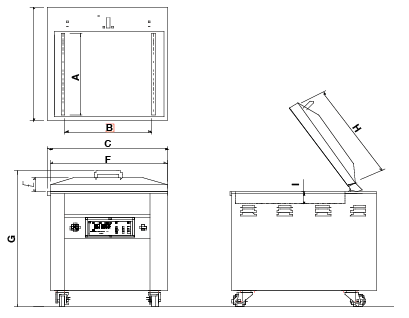 OPTIONS:
PD-01 Basic Digital Control Panel
PNC-01 Computerized Water Resistant Control Panel
Voltage
Gas Flush
Top and Bottom Seal
Soft Air
NEED POUCHES FOR YOUR VACUUM SEALER? IMPAK recommends the 8.5" x 13.0" O.D. Vacuum Bags

NOTE: This item is also available in PALLET QUANTITIES (Pallet quantity = 38,500 bags)

---
PRE-ORDER ITEM: AVAILABLE IN 3-5 WEEKS LEAD TIME
---
IMPAK's model CHSC-520LR is one of our most popular single chamber vacuum sealer models. The "LR" in the model number lets you know that this machine features a two 21" seal bars one on the left and one on the right of the vacuum cavity area. Like all IMPAK chamber vacuum sealers this machine is ETL tested, certified and labeled as meeting UL and CSA safety standards for packaging equipment as well as NSF sanitary standards. This rugged functional machine utilizes an all # 304 stainless steel housing, lid, with a viewing port, and vacuum cavity. It features a Busch vacuum pump for reliable and powerful vacuum performance. The standard PD-01 basic digital control panel allows the operator to quickly set the parameters for vacuum time, gas flush time (with optional gas flush system), seal time and cooling time with the accuracy of a digital readout. If your application requires more advanced control then the optional PNC-01 microprocessor based control panel may be just what you need. The PNC-01 allows for the vacuum to be controlled via time or vacuum pressure and also includes a 14 recipe memory, soft air venting as well as multi-stage gas flush capability just to name a few of the control options it offers the operator. Learn more about the PD-01 and PNC-01 Microprocessor System. This model comes standard with filler plates that help place the package being sealed at the proper height as well as cut down the cycle time for small packages by forcing excess air out of the vacuum cavity. An optional slant tray can replace the filler boards if you are working with a product that will have liquid inside the package. Other options such as a gas flush system, bi-active seal system and 220V/1PH power allow the CHSC-520LR to handle a wide variety of applications. The model CHSC-520LR is also available with the optional "PreciseSeal" fully validatable PLC/HMI based control system.
IMPAK has sold CHSC-520LR machines for the following applications:
Sous Vide
Pharmaceutical Lab applications
Test kitchens
Electronic dry pack applications
Pet food packaging
Markets & Delis
Many more
OPTIONS:
PD-01 Basic Digital Control Panel
PNC-01 Computerized Water Resistant Control Panel
Voltage
Gas Flush
Top and Bottom Seal
Soft Air
For options, please contact
sales@sorbentsystems.com
CHSC-520LR: Chamber Vacuum Sealer (PRE-ORDER)