CHDC-900 Double Chamber Vacuum Sealer Machine
PRE-ORDER ITEM: AVAILABLE IN 4-6 WEEKS LEAD TIME
TECHNICAL SPECIFICATIONS
Chamber size
48.0" x 41.0"
Chamber depth
12/305mm
Distance between seal bars
35/880mm
Seal bar length (A)
39.3x4/1000mm
Vacuum pump capacity
305m3/h (12hp/10kw)
Voltage
230V/3ph/60Hz/42amp
Machine weight
2332 lbs. /1060 kg
Machine size - L x W x H
98.0" x 52.0" x 50.0"
Standard Features:

Stainless Steel Construction
Flat chamber for easy cleaning
PNC-1 Computerized water resistant control panel
10mm wide seals
Bladder activated sealing
Air Assist

High-density plastic filler plates
Pump overload warning indicator
Oil change indicator
Heavy-duty casters
Hide away control panel for easy wash down
Automatic lid transfer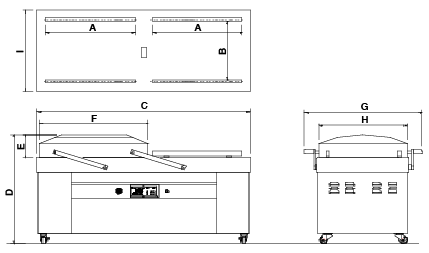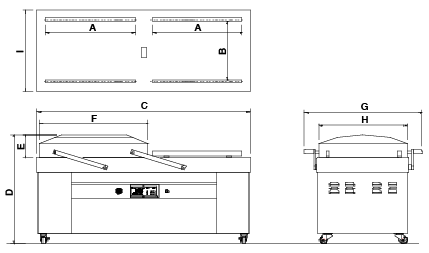 OPTIONS:
Gas flush
Mechanical knife cut-off system
Voltage
Gas flush
Air regulator
Top and bottom seal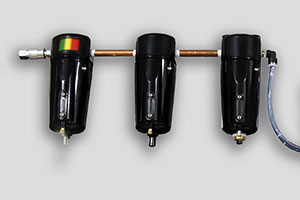 Sterile Air
Two Pre-filters with PM indicators which remove contaminants and water from the compressed air line before they reach the nitrogen generator. After leaving the generator the air is pushed through a Post filter which results in a Sterile Nitrogen flow of 99.9999+% efficiency at 0.01 micron. This is essential for food and sensitive applications where purity is critical.
---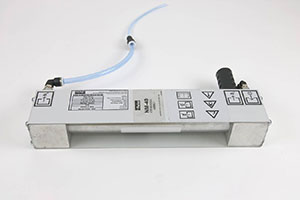 Nitrogen Generator Kit
The Nitrogen generator produces Nitrogen gas (N2) from a standard compressed air line. This model is designed to generate Nitrogen at purities between 95% and 99.5%.
The Nitrogen generator can be used as a replacement for heavy and bulky Nitrogen gas tanks. Its slick and compact design allows users to integrate this with their current gas flush enabled vacuum sealers without having to worry about it taking up too much space. Also, users will not have to worry about a depleting Nitrogen gas source, as our generator produces Nitrogen from a clean compressed air source.
---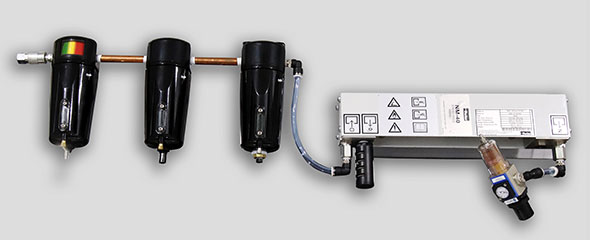 Sterile Air Kit with Nitrogen Generator
OPTIONS:
Gas flush
Mechanical knife cut-off system
Voltage
Gas flush
Air regulator
Top and bottom seal
Swing Lid Double Chamber in Operation
Chamber Sealer Comparison - Vacuum With and Without Gas Flush
NEED POUCHES FOR YOUR VACUUM SEALER? IMPAK recommends the 8.5" x 13.0" O.D. Vacuum Bags

NOTE: This item is also available in PALLET QUANTITIES (Pallet quantity = 38,500 bags)

---
PRE-ORDER ITEM: AVAILABLE IN 4-6 WEEKS LEAD TIME
---
Better known as the "workhorses" within the vacuum chamber industry, our double chamber line of equipment is built to handle years of heavy use and abuse. You will not find an aluminum deck on these machines because they are built to last. Consisting of a fully enclosed stainless steel base with a reinforced chamber deck and heavy-gauge lid, these machines are anything but light duty. Understanding the high demands set forth by the industry no corners were cut in the construction of our CHDC series of chamber machines.
We build a complete line of double chamber equipment with items that range from 21" seal bars to over 39" and span a wide variety of widths.
For additional protection and increased function, we fit our double chambers with our PNC-01 programmable water-resistant, IP56-rated control panel. Another feature that sets us apart is the quick disconnect seal bars that can be removed and installed in a matter of seconds. With these easy-to-disconnect seal bars, there is no need to wait for maintenance to show up with tools when a seal wire breaks. By simply having a spare bar on hand, you can be back up and running in under a minute without any special tools. Learn more about the PD-01 and PNC-01 Microprocessor System.
Time is money in heavy usage applications and we have taken this into account when designing our double chamber machines. Easily removable cushion bars and spacer boards make cleaning the deck surface fast and efficient. Our spring design that assists in lifting the lid provides a smooth and easy back and forth movement that operators will love.
All IMPAK vacuum chamber models are guaranteed to meet the standards of ETL, UL and NSF.
In order to be the best we believe in using the best, and that is why Busch vacuum pumps come standard in all of our double-chamber machines. Find out for yourself what thousands of others around the world have known for years; choose IMPAK for your future vacuum packaging needs.
OPTIONS:
Gas flush
Mechanical knife cut-off system
Voltage
Gas flush
Air regulator
Top and bottom seal
For options, please contact
sales@sorbentsystems.com
CHDC-900: Chamber Vacuum Sealer (PRE-ORDER)