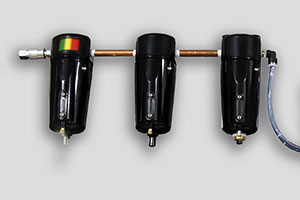 Sterile Air
Two Pre-filters with PM indicators which remove contaminants and water from the compressed air line before they reach the nitrogen generator. After leaving the generator the air is pushed through a Post filter which results in a Sterile Nitrogen flow of 99.9999+% efficiency at 0.01 micron. This is essential for food and sensitive applications where purity is critical.
---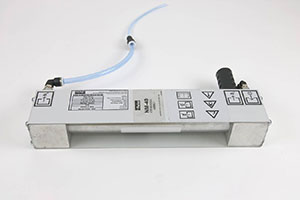 Nitrogen Generator Kit
The Nitrogen generator produces Nitrogen gas (N2) from a standard compressed air line. This model is designed to generate Nitrogen at purities between 95% and 99.5%.
The Nitrogen generator can be used as a replacement for heavy and bulky Nitrogen gas tanks. Its slick and compact design allows users to integrate this with their current gas flush enabled vacuum sealers without having to worry about it taking up too much space. Also, users will not have to worry about a depleting Nitrogen gas source, as our generator produces Nitrogen from a clean compressed air source.
---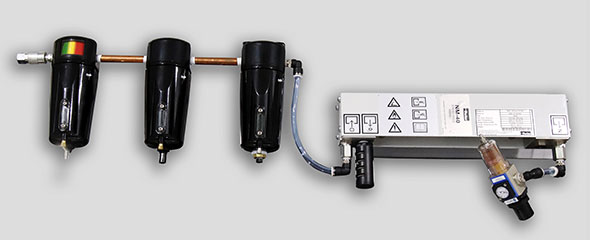 Sterile Air Kit with Nitrogen Generator
GK-MM - Dual Element Spare Parts Kit for GXMPV-18 and GXMPV-18V


This spare part kit includes:
1 - Teflon Insulators
3 - Teflon Covers
1 - Nichrome Elements
2 - Brown Terminal Blocks
2 - Black Vacuum Rubber
1 - Orange Seal Rubber
1 - 5/32 Allen Wrench
1 - 1/8 Allen Wrench
1 - 1/16 Allen Wrench
1 - Flat-Stubby Screwdriver
---
GK-MMD - Dual Element Spare Parts Kit for GXMPV-18 and GXMPV-18V
This spare part kit includes:
2 - Teflon Insulators
3 - Teflon Covers
2 - Nichrome Elements
4 - Brown Terminal Blocks
2 - Black Vacuum Rubber
1 - Orange Seal Rubber
1 - 5/32 Allen Wrench
1 - 1/8 Allen Wrench
1 - 1/16 Allen Wrench
1 - Flat-Stubby Screwdriver
Individual Spare Parts for 18" Mighty Mutt Single Heat Bar
Tags: individual spare parts for 18 mighty mutt single heat bar, gk-mm, vacuum sealers, parts