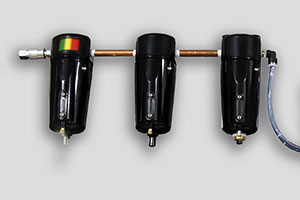 Sterile Air
Two Pre-filters with PM indicators which remove contaminants and water from the compressed air line before they reach the nitrogen generator. After leaving the generator the air is pushed through a Post filter which results in a Sterile Nitrogen flow of 99.9999+% efficiency at 0.01 micron. This is essential for food and sensitive applications where purity is critical.
---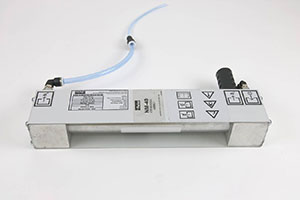 Nitrogen Generator Kit
The Nitrogen generator produces Nitrogen gas (N2) from a standard compressed air line. This model is designed to generate Nitrogen at purities between 95% and 99.5%.
The Nitrogen generator can be used as a replacement for heavy and bulky Nitrogen gas tanks. Its slick and compact design allows users to integrate this with their current gas flush enabled vacuum sealers without having to worry about it taking up too much space. Also, users will not have to worry about a depleting Nitrogen gas source, as our generator produces Nitrogen from a clean compressed air source.
---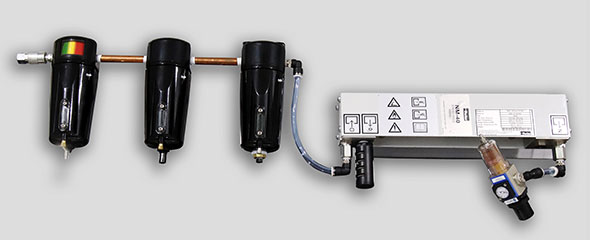 Sterile Air Kit with Nitrogen Generator
NEED POUCHES FOR YOUR VACUUM SEALER? IMPAK recommends the 8.5" x 13.0" O.D. Vacuum Bags

NOTE: This item is also available in PALLET QUANTITIES (Pallet quantity = 38,500 bags)

---
NOTICE: "In-Stock" items are NOT ready for immediate shipment! Machines are built-to-order, in the USA. Need the unit fast? Please press on the "expedite" option.

Standard lead time: 10-15 business days
Expedited lead time: 3-5 business days
A REAL WORK HORSE!
Our clamp type impulse sealers are available in a range of sizes from 6" to 26". These versatile units will provide you with years of top quality performance. The units work well with a wide variety of polyethylene, laminated foil and other barrier films. Ready to use right out of the box, just plug and go. The operation is simple, squeeze the handle and push the button – you're done. These sealers are great when working with large covers or odd shapes such as furniture or packing crates. A real sturdy unit with many options.
Power – 115 VAC – 15A and up depending on options

Seal Length 8" – 26" (203 – 660 mm)

Seal Width – standard - 1/4" (6.25 mm)

Seal Temperature – 275 – 300 F (135 – 149 C)
Options:
3/8" and 1/2" seal widths

220v operation
Dual heating elements

Quick disconnect cable

Related Products